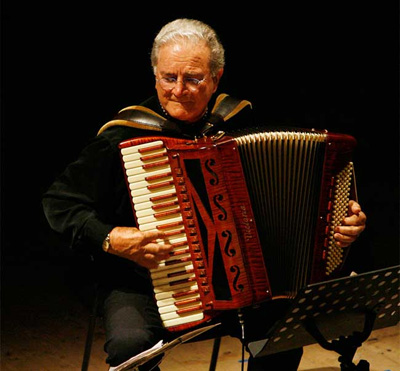 Frank Marocco
Prodotti Musictech utilizzati:
Contatti
Nazione
Biografia
Frank Marocco was born in Joliet, Illinois USA 1/2/1931 - passed away in Los Angeles on 3/3/2012.
He studied classical Accordion for 9 years in The Chicago area. Frank Marocco also studied clarinet, Piano, Harmony & Theory.
 
Began his professional career playing in clubs and hotels all over America with a Trio he organized at age 18. Jazz was his first Love but the opportunity to make a living playing Jazz was not easy and he eventually made his way west to Los Angeles where he worked as a session studio Musician becoming one of the most recorded Accordionists in the world playing on hundreds of Movie soundtracks, TV shows and record dates. He has recorded film music with a long list of composers; John Williams, Quincy Jones, Elmer Bernstein, Michele Le Grand, Hans Zimmer, Michael Giacchino, Henry Mancini and dozens of others.
Frank Marocco has also played with some of the best Jazz Musicians in America and Europe; Ray Brown, Jeff Hamilton, Zoot Sims, Joe Pass, Joey Baron, Herb Ellis, Ray Pizzi, Ivor Malherbe, Carlo Atti, Sam Most, Gian-Carlo Bianchetti, Jacob Fisher, Pekka Sarmanto, Martin Classen, Andy Martin, Tuomo Dahlblom, Ric Todd, Harold Jones, Gerry Gibbs,  Mikko Hassinen, Conti Candoli, Philippe Cornaz, John Pattatucchi, Mats Vinding, Mogens Baekgaard Andersen, Marcel Papaux, Aage Tanggaard, Ron Feuer, Richard Galliano, Peter Erskine, Klaus Paier, Renzo Ruggieri, Massimo Tagliata, Pete Christlieb, Larry Koonse, Simone Zanchini, Andy Simpkins, Bob Shepard, Frank Rossolino, Jim Hall, Abraham Laboriel, Grant Geissman, Luis Conte and Stix Hooper just to name a few.

His passion is Jazz and in recent years has been playing concerts in Europe, Japan, Brazil and China.