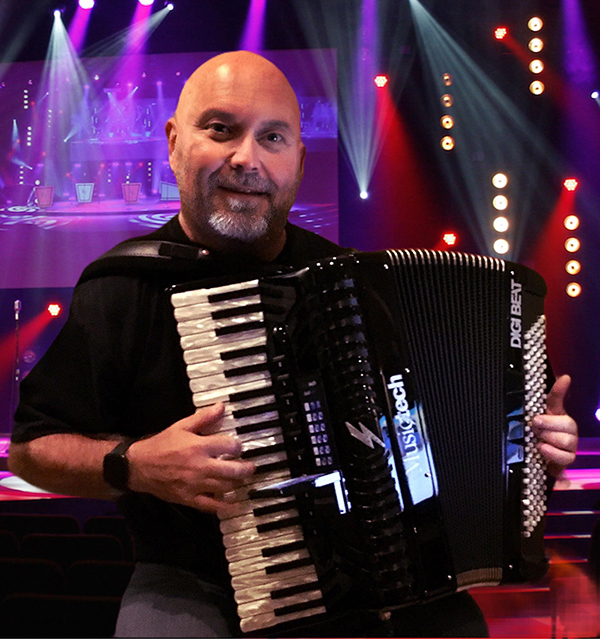 Roberto Enzo
Prodotti Musictech utilizzati:
Music Maker Digital 50 - Piano
Contatti
Nazione
Biografia
Roberto Enzo, was born in Venice (Italy) in 1960, received his first accordion as a present for Christmas at the age of four, and his passion for the instrument and music epitomised when he studied under direction of the mythic Maestro Elio Boschello of Mirano (Venice) from 1971 to 1978, winning many National and International festivals and competitions...  Some of Roberto's achievements:  
International Festival Recanati,
First prize on 1973-74-75-76-77-78
Concorso Internazionale "La spiga d'oro"
First prize on 1974-75-76-77
Concorso Citta' di Livorno Musicisti
First prize on 1974-75-76-77
l Concorso Nazionale Concertisti Terni 1974,
First Prize
l C.M.A. Accordion World Championship
-1975 (Recanati-Italy) First prize cat. Junior
-1976 (Barcellona-Spain) Second prize cat. Senior
-1978 (Pola-ex Yugoslavia) Second prize cat. Senior
Part of "Fisaorchestra Luciano Fancelli" of Mirano (Venice) from 1973 to 1978,  entertained the big audience with the orchestra and as a soloist in concerts in most cities of Europe and Canada.
During the Canada tour in 1978, played concerts in mayor theatres of Edmonton (including the Opening Ceremony of Commonwealth Games), Vancouver, Winnipeg, Jasper, Calgary, Toronto...
Studied piano, classic organ, composition and music history at the "Conservatorio C. Pollini" of Padova, then electronic organ, electronic music, synth and Moog, electric guitar, computer music, sound engeneering and studio recording.
Part of the "Caffe' Quadri" orchestra of Piazza S. Marco (Venice), well known meeting spot of artists, actors and international stars and personalities.
Played accordion, piano and keyboards with many artists, recorded many albums with songwriters like Jean-Paul Poletti (winner of the Mediterranean Song Contest in 1987) Antoine Ciosi, Sterling San Jaques and Toni Dallara, and with his own bands (especially in duo with G.P. Cremonini, well known bass and double-bass player from many years living in between Venice and Paris) performed in the best venues in Italy, Montecarlo , Switzerland and France, in various Cruise Liners and the well known "Orient Express"…
His career endures now for more than thirty years.
Roberto now entertain his audience mostly in Scotland, where he's resident for the past 23 years, but performing around the country from Glasgow to London, Aberdeen to Edinburgh to Manchester singing and playing his accordion and guitar, and occasionally as a guest in international accordion festival concerts and television programs...
His gigantic repertoire comprehend of different styles, from jazz to classical to contemporary music, piano-bar style, and he sings International songs in five different languages.